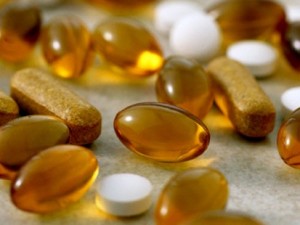 by Tracey Roizman, DC
Did you clean out some cabinets in your end-of-year purge and find that the multivitamin you bought during last year's "in with the new" is now out of date? That particular New Year's goal is still a valid one. And, yes, it is still early enough to reinstate it. Here, as a reminder, are some of the very good reasons why you purchased those pills.
Dietary indiscretions are a good place to start. Everyone's got some. There is certainly nothing wrong with an occasional indulgence or convenience driven choice. However, the common refrain, "I only eat this once in a while." and, "I just have that occasionally." can quickly add up to a lot of this's and that's.
Many supplement takers know that there is a lack of nutrient density in modern food. Part of the reason is that the soil the food is grown in is depleted. This means food that is grown using conventional fertilizers and pesticides is nutrient deficient. If it's not in the soil it can't get into the plant. Compound this with the effects of cooking and processing, that leaves foods in a significantly depleted state.
Let's not exclude stresses associated with living in New Millenium America. We work more hours than our counterparts in other developed countries and have less vacation time. A greater workload with less rest increases the body's nutrient needs.
Similar challenges occur with food itself, however, nature provides an array of vitamin and mineral formulas, which, in ideal circumstances are consumed in ideal proportions by a body that is in ideal proper working order. If your circumstances aren't perfect supplementation is a viable option to ensure you get adequate amounts.
Cost effectiveness is always a concern. If you are going through the time and expensive of buying and taking vitamin pills you want to know that you aren't wasting your resources. Keep in mind that individual needs vary and no vitamin supplement product is fully utilized by every person every time.
When your trip to the bathroom produces bright colors similar to that of the vitamin you took a few hours ago you needn't be alarmed. It doesn't take much to have that effect and it doesn't mean that you aren't absorbing most of the vitamins in your supplement.
You can also take confidence in these tidbits of good news. It is thought that higher concentrations of vitamins, as occurs from supplementation, promotes increased absorption, pushing the reaction forward, so to speak. And, in fact, some nutrients are beneficial even when they aren't absorbed. For example, calcium and other nutrient minerals prevent the absorption of toxic metals. Vitamin C has antioxidant effects within the intestinal tract and this has been shown to lower GI cancers.
Overall, supplementation amounts to cheap health insurance. The cost of adding 1000 mg of calcium in supplement form is less than 25 cents per day. The conundrum around preventive health care, though, is simply that; you don't know what you're not getting because you're preventing it from happening.
In reality, most everyone has something by which they can measure results. As a case in point, a patient in my practice had been under my care for a year. At one of her regular chiropractic visits she remarked that she'd been to her dentist for a routine cleaning. Usually, she would leave quickly before the dentist had an opportunity to check her, for fear of receiving bad or expensive news. This time the dentist checked and remarked on the visible improvement in her teeth and gums and asked her what she'd been doing. The only change she could point to was the supplements she'd been taking.
Tracey Roizman, DC offers traditional chiropractic structural corrections, kinesiology testing and nutritional therapies. She graduated from Western States Chiropractic College, in Portland, Oregon and has a bachelors degree in biochemistry from the University of New Hampshire. Contact Dr. Roizman for chiropractic treatments and health consultations at 828 225-5575. www.chiroasheville.com or email: info@chiroasheville.com.